The RoadBID Show – The First North American Vehicle Branding Festival How Vehicle OEM's Service & Product Providers Will Bridge the Gap with Millennials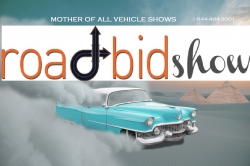 Los Angeles, CA, July 28, 2017 –(PR.com)– RoadBID Show – North American Vehicle Branding Tour 2018
A Call to Vehicle OEM's, Vehicle Service & Product Providers, Exhibitors, Sponsors, Race Car Drivers, Race Car Owners, Musicians, Speakers, Comedians, Agents, Managers and Vehicle Enthusiasts
The RoadBID Show is a North American vehicle branding tour for the vehicle enthusiasts across 12 major motor speedway cities in the US and Canada.
The Show Components comprise of:
1-A Green Vs. Gas Race (EV & Combustion Race) at the Speedway
2-The 1st North American Vehicle Branding Fashion Show (Choreographed Dance with Vehicle Brand Apparel & Accessories)
3-A Live Vehicle Enthusiast Music Concert Festival with Top Entertainers, Comedians & Honorary Speakers
4-A Vehicle Enthusiast line up Vehicles including: Autos, Motorcycles, Recreational Vehicles, Marine & Watercraft
5-Open Invite to Vehicle Clubs & Associations invited to each City Festival
6-Exhibitors Service & Product Providers of all kinds – B2C, B2B and C2B
7-A MarketPlace Platform that will capture data, have the ability to buy now or bid now, have QR technology for all items during the event (excluding concessionary items)
The event is scheduled in 12 Cities in 2018 at the Motor Speedway Cities in the following States in the US: California, Florida, Georgia, North Carolina, Texas, Tennessee, New Hampshire, Missouri, Nevada and in the following Provinces in Canada: Quebec and Ontario.
Saima Khan, CEO & President and Executive Producer of the Show said, "We went to the internet, to devices, to the internet of things and striving for the connected car, and the self driving vehicles. We attempted marketplaces, ad words, campaigns subtlety blind. We captured alternative marketing theories of fruition adoption, attempted activation for these consumers, but these Millennials are still baffling the industry and skewing the stats of growth within the Industry. We all know that these consumers purchase with a claim of views of a 'Like' or a 'Dislike' or via word of mouth and the obvious experience. It's as fast and as short as a Nano second to press the limited sentiment and make up their minds." She continued, "The Vehicle Industry needs to bridge the gap and see that it is not only to think like them, but play like them, behave like them, and give them an opportunity to really experience the Vehicle Industry products & services onsite, on hand."
The Music Concert Festivals, Entertainment activities along with gaming & technological features become memorable and grant instant gratification at the RoadBIDShow. Saima stated, "This generation strives to be educated with the ability to touch, feel, smell, see, drive, race, experience, and get immediate satisfaction and then finally just do it on the fly with onsite purchases with an onset mind! Let's be real, we gen X and baby boomers experienced via our parents and family and what our friends purchased. Let's face it, it is not all that different from popular votes of the 'Likes' and 'Dislikes' that this generation experiences via their surreal surrounding friends."
TC Burton, VP of Sponsorship, Partners & Alliances and Executive Producer of the Show stated, "We need to activate the Millennials by being in their playground. We need to introduce a competition, create a drive of anticipation and this is all offered at The RoadBID Show that will facilitate this type of interaction with Live Broadcasts, Webcasts and Onsite Experiences."
The Show will be broadcast live on local channels and on the Web during the events. There will be a Live Market Place for Products & Services for Vehicle Enthusiasts from OEMs, Dealerships, Finance, Insurance, Warranty, Vehicle Parts, Pieces & Tools, Service Repair, Roadside Assistance, Vehicle Apparel, Vehicle Accessories, Logistics Shipping, the consumer will be able to purchase services & products using the RoadBID Show Platform via QR recognition. The consumers will be able to review, like & dislike products and services throughout the event. Activation for the brands will be throughout the live event for onsite and offsite consumers watching from their homes.
Currently, the RoadBIDShow is seeking Sponsors & Exhibitors in the Automotive, Motorcycle, Recreational Vehicle, Marine & Watercraft, Vehicle Service & Product Providers, Race Car Drivers, Race Car Driver Owners. 10% of all Show Proceeds & Sponsorship will go directly towards the charity of the organization's choice.
"Vehicle Business owners are struggling with the ability to capture the attention of the Millennial Markets," said Saima Khan, CEO of ViberTEX and Executive Producer of the RoadBID Show, "Experiential Marketing & our technology platform during the RoadBID Show along with the touch and feel of the products and services offered at the event will allow the Vehicle Industry to demonstrate Vehicle Branding Activation mediums during the Three Major Components of our show: 1-Green vs. Gas Race, 2-1st North American Vehicle Branding Fashion Show, 3-Vehicle Concert Festival."
"The RoadBIDShow will create a flurry of vehicle craze, drive & adrenalin," said TC Burton, VP of Strategic Partnerships & Executive Producer. He continued to confirm that "This is the show that all vehicle enthusiasts from ages 8 to 80 will enjoy! Let's not be illusive any longer. Let's create the millennial bridge with the vehicle industry. Let's be a part of this journey for interactive participation with the millennials. The only way is to collectively gather the vehicle OEMs, service & product providers and encourage the vehicle industry leaders to participate at an event that will be memorable, fun for everyone during the RoadBIDShow North American 12 City Tour 2018…"
ViberTEX, Inc. a Nevada based company that is creating the RoadBIDShow. The RoadBIDShow is promising that it will make some noise, make some rumble and roars for the Power-ized, Motorized Vehicles. For Sponsorship & Exhibitor Activities, call 1-844-494-9001 or Contact: Saima Khan | TC Burton or Email: [email protected] | [email protected]
Contact Information:
ViberTEX, Inc.
Saima Khan
805-444-2013
Contact via Email
www.roadbidshow.com
[email protected]
Read the full story here: http://www.pr.com/press-release/724742
Press Release Distributed by PR.com