PT Explores the Scalability of a Software-Defined Storage Solution Using Container-Native Storage for Red Hat OpenShift Container Platform and HGST Ultrastar Storage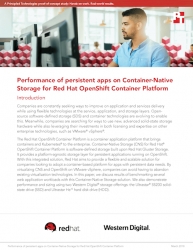 Durham, NC, March 20, 2018 –(PR.com)– Many companies are looking for ways to improve their application and services delivery. They may also be interested in leveraging their investment in VMware vSphere and taking advantage of advanced solid-state storage media offerings. Container-Native Storage (CNS) is an open-source software-defined storage and container technology that meets these needs.
Principled Technologies conducted a proof-of-concept study using Container-Native Storage paired for Red Hat OpenShift Container Platform to run both an IO-intensive database-only workload and a CPU-intensive, full-web app LAMP stack workload. They ran these workloads with a variety of app instance counts to explore the scaling capabilities of the solution configured with two types of Western Digital storage media: Ultrastar He10 hard drives and the new Ultrastar SS200 solid-state drives.
On the IO-intensive workload, the SSD configuration achieved maximum performance greater than five times that of the hard drive configuration, whereas the two configurations achieved comparable performance on the CPU-intensive workload. This shows that it is critical for companies to understand their application performance profile when designing their Red Hat CNS configuration.
According to the report, "CNS operating in de-coupled mode successfully provided storage to the container-based apps in both the IO-intensive and CPU-intensive scenarios."
To learn more about how Container-Native Storage for Red Hat OpenShift Container Platform can help with app and services delivery, read the full report at http://facts.pt/P8VsQz.
About Principled Technologies, Inc.
Principled Technologies, Inc. is the leading provider of technology marketing and learning & development services.
Principled Technologies, Inc. is located in Durham, North Carolina, USA. For more information, please visit www.principledtechnologies.com.
Natasha Simmons
Principled Technologies, Inc.
1007 Slater Road, Suite #300
Durham, NC 27703
Contact Information:
Principled Technologies, Inc.
Natasha Simmons
704-712-1115
Contact via Email
http://www.principledtechnologies.com/
Read the full story here: https://www.pr.com/press-release/735058
Press Release Distributed by PR.com